Planning how and what data to collect in an investigator initiated trial (IIT) is one of the most challenging tasks for researchers. On the one hand, there needs to be sufficient data collected to support and test the study's hypotheses. On the other hand, the over-collection of data results in wasted resources. The case report form (CRF), which is used to collect patient data for analysis, therefore needs to be carefully designed with great attention to details. This article will highlight some useful tips for you to keep in mind when designing your CRF.
Paper or Electronic Formats
There are two types of CRFs, the traditional paper form and the newer electronic format (eCRF). For small clinical studies and IITs, the paper CRF may be a suitable option because it can be easily implemented. It does not require upfront investment costs for the technology and training that is required for an eCRF. The drawback of paper CRFs, however, is that it is tedious to design and execute, as well as highly prone to errors in data entry and data transfer. The use of eCRFs overcomes a lot of disadvantages just mentioned and is the preferred method globally for CRFs of large clinical trials. They are much less time-consuming and more friendly to use for the clinical investigators. Additionally, the use of eCRFs makes it easy to collect and harmonize data from multicentre studies. Moreover, the use of eCRFs also facilitates the approval process by regulatory bodies. The downside, of course, is there are costs associated with implementing an eCRF system. So, the choice between paper or electronic formats entirely depends on your preference and budget.
Design Tips
A well-drafted CRF will ensure the integrity and quality of the data collected. In contrast, a poorly designed CRF form could prove costly for the study as it will lead to incomplete and inaccurate data collection—and in some cases not collecting essential data at all. We've summarized some of the essential tips to help you improve your CRF design:
Avoid duplication of data and unwanted details
Prevent page clutter by adding white spaces wherever possible
Remove any potential ambiguity in language or data entry
Provide clear instructions, questions, and prompts
Use bold and italics to highlight instructions
Provide adequate instructions as to when to skip questions or sections
Ensure that the document is formatted the same throughout with proper font style and size
Use visual cues such as box outlines to direct the place and format of data to be entered
Use checkboxes instead of circling answers to avoid confusion
Reduce the amount of free text response as these are hard to interpret
For numeric entries, signify the number of decimal places and the units
Ensure that date formatting and page numbers are consistent throughout the document
Wherever possible, use pre-determined answers (yes/no, mild/moderate/severe)
Avoid calculations on the CRF
Ensure that the subject ID and CRF version appears on every page for keeping track of missing data
Examples
The example below on the left shows a poorly designed CRF. Notice how it does not include a version number in the footer or instructions on how to complete it. Furthermore, instead of using checkboxes with pre-determined answers, it uses free-text boxes that are hard to interpret and prone to errors. There are also no instructions on how to fill out the visit date or date of birth, so the date formats could vary between investigators. The example on the right shows a significantly better version of the CRF form.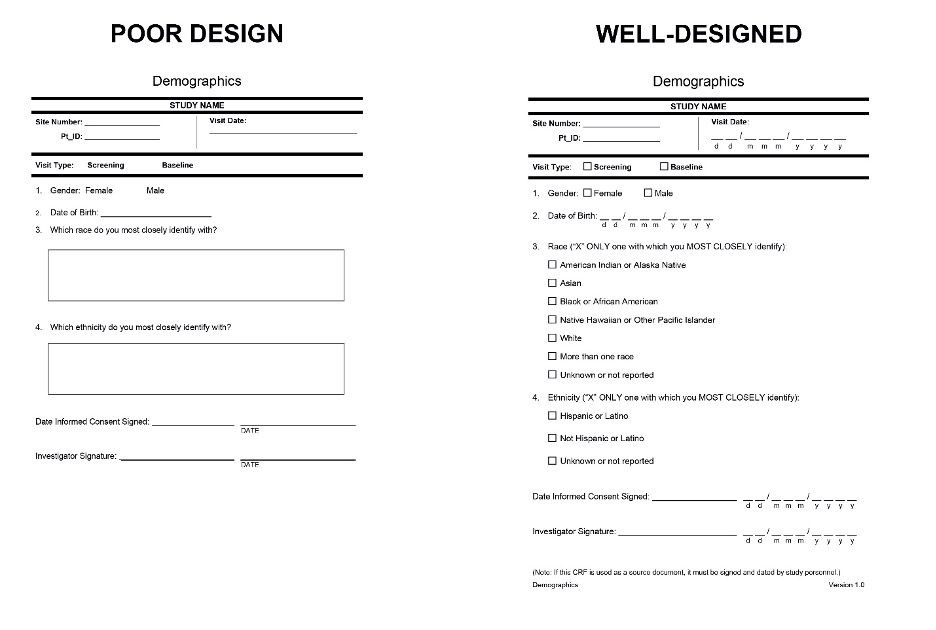 Templates
There is often a lot of overlap in data requirements across clinical studies, so it's a good idea to develop a standard CRF that can be customized as needed. Using the same standard structure will also reduce the amount of training required to fill out future CRFs. Some examples of CRF templates that can be reused across studies include demographics, medical history, physical examination, and adverse tracking list. Below you will find links to CRF templates that can help you get started:
In addition to a CRF, you will also need to draft a CRF completion guideline. This document will provide step by step instructions to help investigators complete the CRF. The language should be clear and concise and easy to follow.
Conclusion
The objective of designing CRFs is to ensure accurate and complete data collection and ease-of-use for the investigators. Keep in mind that design is a process, and over time, after multiple iterations, your CRF will gradually improve and become more robust. As always, we recommend you ask your investigators for feedback on the CRF's design and how to improve it. For more help on CRFs, IITs, and other clinical study-related topics, please contact Sengi.
REFERENCES
1. Bellary S, Krishnankutty B, Latha MS. Basics of Case Report Form Designing in Clinical Research. Perspect Clin Res 2014;5:159-66.